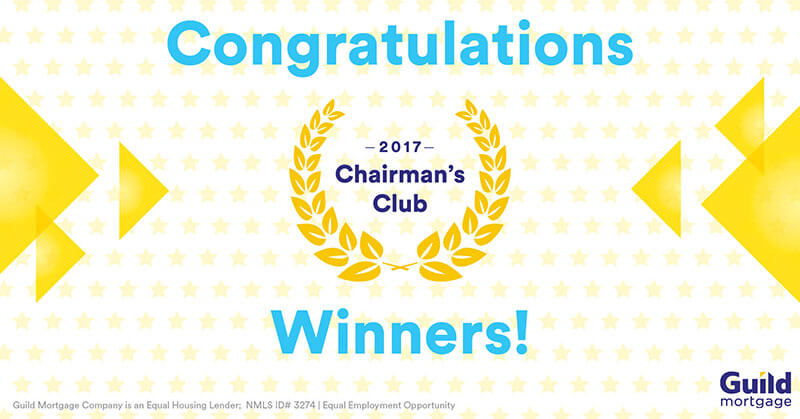 Chairman's Club Winners 2017
Each year, we honor our top producing loan officers for their hard work and amazing contributions to the company. We recognize three categories of achievement: Circle of Honor, President's Club and Chairman's Club. To achieve Chairman's Club recognition, which is our highest honor, loan officers, as either individuals or in teams of 2, must reach $48M in purchase volume or 288 purchase units and $40M in total volume or 240 total units. Teams of 3 or more loan officers much reach $72M or 432 purchase units and $120M in total volume or 732 total units. For branch managers, the threshold is $360M with 2,000 total units and for area and district managers, they must reach $1.2B to achieve this honor. Our 2017 President's Club award winners are invited to attend 6 days in Punta Mita, Mexico to celebrate their diligent work and incredible success. Congratulations for this amazing group of people and thank you for all that you do!
Branch Winners
District Winners
| Branch Name | Branch Manager | Region | Total Units 2017 | Total Volume 2017 |
| --- | --- | --- | --- | --- |
| SEATTLE METRO | GINA DUROSKO | NW | | $1,995,502,634 |
Share this story, choose your platform!