How to choose a mortgage lender
When buying a home, you may research things like the housing market, local neighborhoods and real estate agents. Whether you're an experienced homebuyer or this is your first time, don't overlook researching your prospective mortgage lender too. Keep in mind that you're looking for someone who will guide you to find the loan that best fits your life and will serve you for the entire life of the loan.
How to prepare before picking a mortgage lender
Check out these recommendations, and you'll be better prepared to venture out on your homebuying journey.
Start with your credit report
Determine your homebuying budget
Review your finances and cut out unnecessary spending. Then, create a budget to determine a comfortable monthly payment for your financial situation. Understand how much you can afford, not how much you can borrow.
Research lenders
Find a loan officer and mortgage lender you trust to guide you through your home financing every step of the way.
Check out their experience

Are you a veteran interested in a VA loan? Or do you live in a rural area and think you might qualify for a USDA loan? Ask your loan officer if they have experience helping homebuyers in situations like yours.

Read their reviews

The right loan officer not only understands your needs and goals but is someone you can rely on. Ask friends, family or your real estate agent for recommendations. Read customer reviews for insight on what it's like to work with your potential loan officer. Before applying for a loan with a Guild Mortgage loan officer in your area, you can check out their testimonials to see what clients are saying about them.

Here are some examples of real customer testimonials from one of our highly rated loan officers.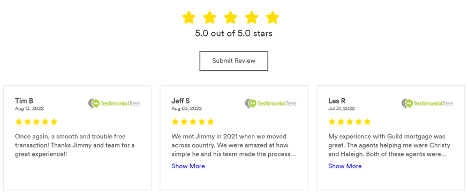 10 questions to ask your mortgage lender
Consider asking these ten questions before applying for a home loan, and you'll be on your way to choosing the best mortgage lender for you.
1.

How much mortgage can I afford on my salary?

The cost of homeownership isn't limited to your monthly mortgage payments. If your goal is to purchase a home that you can afford to buy and keep on your salary, ask your loan officer to explain the impact of other factors that can affect your ability to afford the monthly mortgage payment. These factors include your down payment amount, total monthly debt and common homeownership expenses.

2.

Which loan is right for me?

The best home lenders offer a wide range of loan types and will tailor a borrowing strategy that fits your needs. At Guild Mortgage, we offer hundreds of loan products to fit your unique situation and collaborate with many state housing programs that provide down payment assistance. In addition to our conventional, FHA, VA and USDA financing options for first-time homebuyers, military families and rural residents, we also offer reverse mortgages*, jumbo and manufactured home loans. The right home loan for you may also be one of our many financing options found only at Guild Mortgage.

3.

What are your mortgage rates?

Many lenders' websites show "today's rates" based on the market or the lowest available rate. Just because you see a listed rate doesn't mean you'll be able to lock that in. Those are often the lowest rates available, and your application may need to meet specific criteria to get that rate. When determining your mortgage rate, lenders will consider your credit history and score, debt-to-income ratio, the economy and the Fed's base interest rate.

While the mortgage rate reflects how much you'll pay to take out your loan, the APR includes all the associated fees and loan-related charges. Ask your lender if any discount points can be included in your APR to lower your interest rate. Buying discount points is a way for you to reduce your interest rate later and avoid some of the costs in your APR. Points are essentially one-time, pre-paid interest charges on your loan. The more points you pay, the lower the interest rate on the loan.

4.

What are my down payment options?

The amount of your down payment will vary depending on your home's appraisal price, the type of loan and your credit history. You may even qualify for a loan with little or no money down. If you need the flexibility of a low-down payment, explore your lender's affordable lending programs.

5.

Do I qualify for down payment assistance (DPA)?

Widely available through state and local government agencies and nonprofit organizations, homebuyer grants and down payment assistance programs can potentially save you thousands of dollars by reducing the amount you need to save for a down payment. First-time homebuyers and individuals with incomes below area median levels can increase their buying power with a DPA program. Before choosing a mortgage lender, ask your potential loan officer about program eligibility.

6.

Is a mortgage rate lock available?

If you're worried about increasing interest rates, you may want to lock in your rate while you shop and avoid further fluctuations. Programs like the Guild Mortgage Lock and Shop Program** offer rate protection for a specific time period and a one-time rate float-down option if rates go down while you shop for a home. When inquiring about rate lock, confirm with your lender any associated costs and the duration of the lock available to you.

7.

Do you have a local branch?

While much of the mortgage process can be done over the phone or online, at Guild Mortgage, we believe there are many benefits to doing business with a loan officer who lives and works in your community. Why should you choose a local loan officer?

They offer a more personalized approach. For example, you and your realtor can reach out whenever you need by phone, text or face-to-face to ask questions in person.
They're familiar with federal, state and county programs available in your area.
They have relationships with local realtors and can work together to get things done more effectively.

8.

How long will it take to close?

A loan officer should be by your side, listening to your goals and guiding you all the way. At Guild Mortgage, we offer a personalized touch that follows our values of customer service, integrity, respect, collaboration, learning and excellence. This includes keeping you notified of each milestone in the mortgage loan process.

9.

Do you service your loans?

So you can prepare, find out how long your lender will need to close and if they guarantee on-time closings. For example, Guild Mortgage offers a Homebuyer Express with 17 Day Closing Guarantee for buyers in a hurry.* Guild Mortgage will pay qualifying customers $500 toward closing costs if delays solely by the company prevent the loan from closing on time.

10.

Is a mortgage rate lock available?

After your home loan closes, you begin making payments to the mortgage servicer that handles the daily management of your mortgage, such as collecting and crediting monthly payments and taking care of your escrow account, if you have one. Often, mortgage lenders will sell your loan to another organization for servicing, so your mortgage lender and mortgage servicer are two separate entities.

At Guild Mortgage, we lend and service the majority of the loans that we originate in-house. That means that we're your loan partner throughout the life of the loan. We care about helping you achieve homeownership, and are there with you when you move to a new house, refinance your current mortgage, renovate your home or need mortgage help programs and assistance.
Building strong connections and long-lasting relationships is why we've been in business since 1960. We'll work with you to get a loan to fit your life. If you're ready to get pre-approved or have questions about the mortgage process, contact a loan officer today.
The above information is for educational purposes only. All information, loan programs and interest rates are subject to change without notice. All loans subject to underwriter approval. Terms and conditions apply. Always consult an accountant or tax advisor for full eligibility requirements on tax deduction.
Share this story, choose your platform!