Erin Langevin, Senior Vice President, National Retail Operations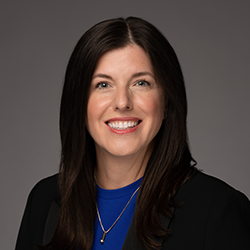 Erin Langevin joined Guild Mortgage when it acquired her previous firm, Liberty Financial Group, in 2008. In her current role as senior vice president of national retail operations, her responsibilities include management of Guild's retail processing, underwriting and closing/funding, and technology and systems that support Guild's operations personnel. Additionally, she oversees training for staff in each of these areas.
Erin was promoted to Guild's corporate production operations department in 2010, where she was responsible for all processing training and enhancing the technology and systems supporting operations. She was selected as vice president of retail operations in 2014 and named senior vice president in January 2018. Her leadership has been instrumental in expanding the depth and expertise of mortgage operations that has enabled Guild to grow into one of the nation's top independent mortgage lenders.
She started in the mortgage industry in 1998 as a marketing assistant, and later worked as a loan officer assistant before transitioning into operations. Erin has been managing operations since 2004 and initially served as operations manager of the Mountain Region when she started at Guild.