New construction programs
New construction programs
A brand-new construction home is full of opportunities. Whether you're relocating, downsizing or looking to upgrade, we'll help you find the loan that gets you into your dream home.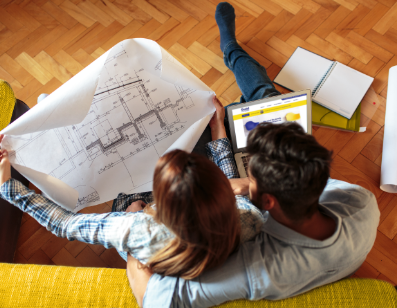 Construction loan options can help you get into your dream home once your home is complete
A new construction loan helps finance the construction of a new residential property once the final touches of the home are complete. Many times, builders are working to get their homes sold as they are complete or as they are nearing completion. With our new construction loan programs, Guild works to provide all different types of financing options to help you get into a brand-new home.
What is the difference between purchasing a brand-new home or buying an existing home?
In a low inventory market, buying brand new may be the right option for you to work with a local builder to customize a brand-new home to your liking. Buying an existing home today may be more challenging until more inventory is readily available to choose from.
New construction financing options
If you're interested in working with a builder to create your dream home, we can help you find the program that's right for your financial situation. Many builders offer incentives in the form of a seller incentive that can help you get into a home with a lower payment or lower closing costs. Our new construction loan programs can help boost your homebuying experience.
Pay your interest using the builder's incentive for up to the first six months. Please note you're still required to make principal payments, including taxes, insurance and HOA.
Use the builder's incentive to reduce your initial mortgage payment for the first few years of your loan. We offer temporary buydowns for the first few years with Conventional, FHA, Jumbo, USDA and VA financing options.
Use the builder's incentive to buy down your interest rate permanently and help your payment fit within your budget.
Builder Extended Rate Lock Program**
Secure your interest rate for up to 360 days while you build your dream home. If interest rates increase during the construction process, you are protected. If rates end up going down, you can request a one-time float down to the current market within 15-30 days before closing.
Bonus bundles
Add a pool or solar to your new home—and bundle it into one loan to have a potentially lower monthly payment.
A new home plus a new pool = New possibilities to dive into
A new home plus new solar panels = A great way to go green and save
There are a lot of small decisions to make when you customize a home. We're here to serve as your partner at every step and help you get into your new home.
Whether you're interested in relocating, downsizing, or adding a pool or solar, we can help you determine the program that makes sense for your budget and needs.
Not available in all states. Eligibility requirements apply and availability varies.
How to get started
Get pre-approved by contacting a local Guild loan officer or connect with us to get your questions answered.
If you would like to learn more about new construction loans and mortgage options, please check out our loans that are tailored to fit your life.
Building communities since 1960
We've been partnering with builders for over 60 years to help homebuyers get into their homes and stay in their homes. We're committed to closing on time and are here to provide support at every step.
Are you a builder interested in partnering with Guild?
*Builder incentive participation is required to provide seller credit at closing. Borrower must meet program eligibility and qualify based on the note rate of the program selected.
**The upfront fee may vary and is non-refundable in most states. The upfront lock in fee may be applied as a lender credit or a reduction in closing costs fees in the amount equal to the original fee collected. Lender credits are subject to the maximum contributions allowed and minimum borrower contributions per program requirements. No upfront lock-in fee on VA loans. Lock terms up to 360 days applies to conforming loan amounts. Lock terms up to 180 days applies to high balance loan amounts.
All loans subject to underwriter approval; terms and conditions may apply. Subject to change without notice. Always consult an accountant or tax advisor for full eligibility requirements on tax deduction.