VA home loans
VA home loans benefit veterans, service members and surviving spouses. These loans allow you to buy or refinance with the following advantages:
No down payment options
Borrow up to 100% of the home's value with a cash out refinance
Rate and term refinance options
No private mortgage insurance (PMI) requirement
Lower interest rates than traditional mortgages
Higher debt-to-income ratios accepted
Reduced fees as compared to traditional mortgages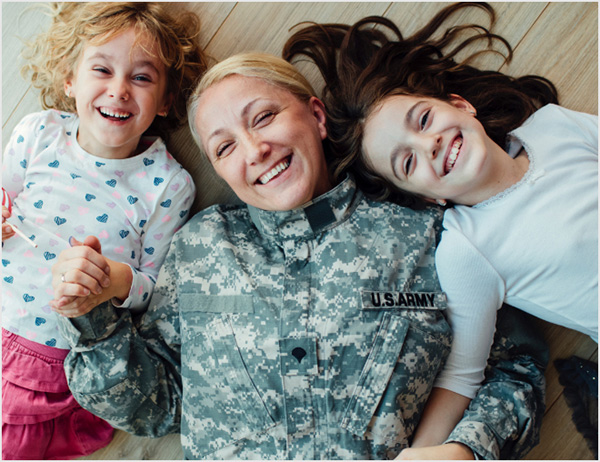 What is a VA home loan?
A VA home loan has a portion of the loan balance guaranteed by the U.S. Department of Veterans Affairs (VA). Veterans who qualify may find homeownership more accessible through VA-backed loans than other financing programs.
With no down payment, flexible income and lenient credit requirements, the VA home loan is a great tool to help our military members find a place to call home.
What are the VA home loan requirements?
If you served in the Armed Forces, you must meet one of the following to qualify:
Certificate of Eligibility (COE) will be required to determine eligibility and VA funding fee

For service members: You meet the minimum active-duty service requirement if you've served for at least 90 continuous days (without a break in service). For Veterans, National Guard members and Reserve members: You meet the minimum active duty service requirement depending on when you served.
We're here to serve your most important beginnings
VA home loans open the door to homeownership by eliminating the need to spend years saving for a down payment or building a good credit history. Our loan officers will find the VA home loan that fits your life. Whether you're interested in a starter home, an investment property or a place to renovate and make your own, we're here to help you at every step.
If you're interested in learning the next steps, please fill out our contact form to get in touch with a loan officer. We'll be happy to answer any questions regarding VA home loans, requirements and eligibility.
All loans subject to underwriter approval; terms and conditions may apply. Subject to change without notice. Always consult an accountant or tax advisor for full eligibility requirements on tax deduction.