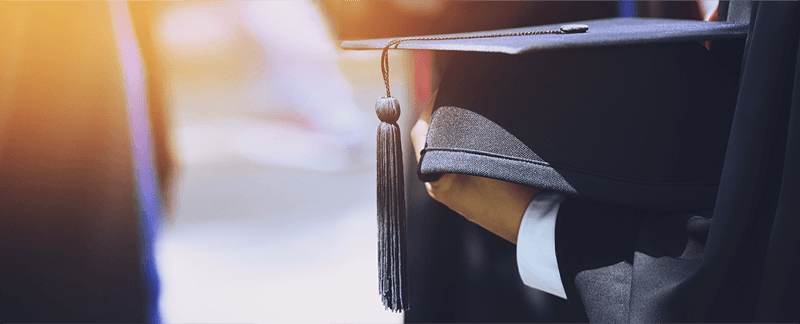 Guild Mortgage Announces Recipients of Inaugural Academic Collegiate Scholarship Program
Independent mortgage lender provides financial assistance to 10 college students In eight states through its Guild Giving Foundation
SAN DIEGO – Guild Mortgage's Guild Giving Foundation, a nonprofit organization created to expand its community outreach efforts across the country, has awarded 10 academic collegiate scholarships to students pursuing continuing education.
The Guild Giving Scholarship Program, which is in its first year, awards financial assistance to qualified members of the community, as well as Guild Mortgage employees and their dependents. Winners are provided $1,500 to be applied to accredited colleges, community colleges, trade schools, and undergraduate and graduate degree programs in any field of study.
The inaugural winners were: Nicholas Davis, Redlands Community College (Okla.); Olivia Estes, Southeastern Oklahoma State University (Okla.); Mackenzie Floyd, Baylor University (Texas); Kinley Ives, Colorado School of Mines (Colo.); William Lilley, Palomar College (Calif.); Carlos Reyes-Navarro, Central Washington University (Wash.); Deonte Sanseverino, The University of Alabama (Ala.); McKenna Sjoden, The University of Oregon (Ore.); Jason Tinney, Cairn University (Pa.); and Lydia Peplinski, George Fox University (Ore.).
"One of the primary missions of the Guild Giving program is to support financial literacy, and education is a critical component," said Mary Ann McGarry, president and CEO of Guild Mortgage. "We are committed to making an impact in every community we serve and we are proud to help support the continuing education of these talented individuals."
To be eligible, applicants must be a United States citizen or national, have a minimum grade point average (GPA) of 2.5 and meet one of the following criteria: be enrolled full-time in a U.S. high school, have graduated from a U.S. high school or have obtained a U.S. GED at the time of application; or be enrolled full-time as a college student at the undergraduate level with a minimum GPA of 2.5 at the time of application. Applicants must also live within geographic reference to a Guild Mortgage branch or office in their city, state or county.
Students must submit a student essay, statement of career objectives, letter of reference and their official high school or college transcripts as part of the application process.
Recipients are selected by a third-party law firm that specializes in assisting 501(c)(3) charities and foundations in navigating scholarship grant creation and maintenance programs. Payment is made to the recipient's school of choice upon notification and in accordance with the school's scholarship guidelines. Scholarships may be a one-time award or be renewed each year through an endowment.
Guild Mortgage will be accepting scholarship applications for 2018 starting on January 15. The application window closes on April 15.
Guild Mortgage, which has more than 250 offices in 27 states, launched the Guild Giving Foundation in 2016 to encourage volunteerism and deliver on the commitment to provide shelter and inspire positive change in neighborhoods and communities it serves across the U.S. Guild supports dozens of local and national charities through direct donations and company-backed volunteer time under its Guild Giving program.
A top-10 national lender by purchase loan volume, Guild offers first-time homebuyers a wide range of loan options and personalized service. Its mortgage loan officers can serve the needs of any homebuyer, from helping first-time homebuyers achieve homeownership, often through government loan programs, to jumbo home loans. Guild also specializes in helping active duty and retired military personnel to secure VA loans, with 100-percent financing and flexible qualifying standards.
Share This Story, Choose Your Platform!