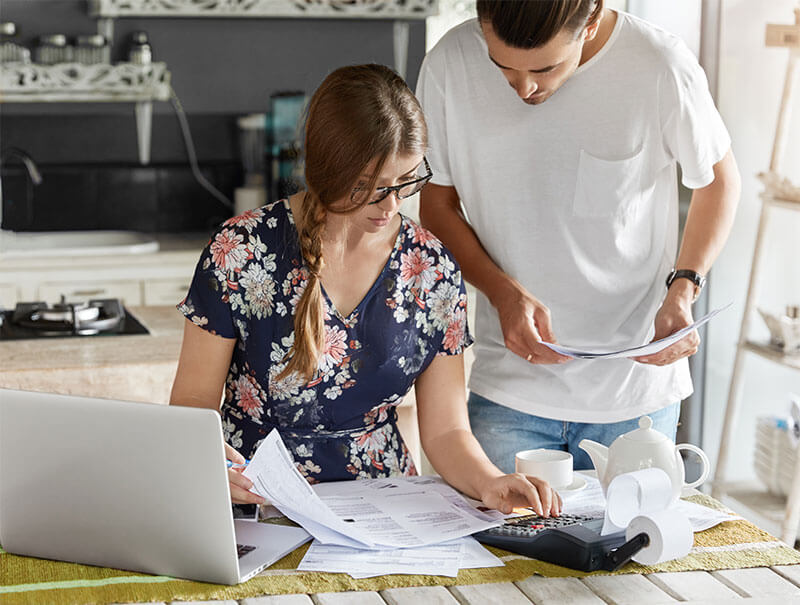 Mortgage lending options: How much mortgage can I afford?
Are you aspiring to own a home within your budget and wondering "how much mortgage can I afford?" Don't worry; there is a right loan for every borrower. Educate yourself on the facts about affordable lending and learn what programs are available. These low or no down payment mortgage programs make homebuying more affordable and offer a variety of benefits for borrowers who qualify.
How much mortgage can I afford on my salary?
When it comes to how much of a mortgage payment you can afford, make sure to understand the types of loan options available and their corresponding perks and qualification requirements.
1

. FHA loans are designed for low-to-moderate income borrowers with less-than-perfect credit; FHA approved lenders offer down payment options as low as 3.5%.

More flexible qualification requirements than other mortgage loans
Credit scores as low as 580

2

. FHA loans aren't the only option for borrowers with less than a 5% down payment which makes them an ideal solution for borrowers who want to know just how much of a mortgage they can afford with a lower down payment; some Conforming loans offer financing up to 97% of the purchase price.

Low interest rates to borrowers with excellent credit scores
The largest selection of loan options at the most competitive rates

3

. VA loans are a no-money-down program available to members of the U.S. military and surviving spouses.

No private mortgage insurance (PMI) requirement
Lower interest rates and reduced fees as compared to traditional mortgages

4

. Also called a rural housing loan,

USDA loans

are for low-to-moderate income homebuyers and offer zero down payment options. They are available to approximately 97% of eligible homes in the U.S.which makes them an ideal choice for qualified borrowers who are still concerned about getting a loan that meets their salary and budgetary needs.

Better-than-average interest rates
Credit scores as low as 600

5

.

Adjustable-rate mortgages generally start with lower up-front payments than fixed-rate mortgages.

Shorter loan terms, which may be beneficial if you will not be in your home long
Caps limiting the amount by which rates and payments change, protecting you from potential steep increases

6

. 3-2-1 Home is an exclusive first-time homebuyer program offered by Guild Mortgage enabling home purchases with as little as 3% down. As part of the program, Guild provides a $2,000 The Home Depot Gift Card® and a $1,500 grant toward closing.*

*Guild Mortgage is not affiliated with The Home Depot. The Home Depot is not a sponsor of this promotion. The Home Depot is a registered trademark of Home Depot Product Authority, LLC. All rights reserved.
Affordable lending myths: The nuts and bolts of mortgage affordability
Don't let misconceptions about affordable lending prevent you from considering homeownership. Educating yourself on the facts surrounding these four topics will expand your homeownership opportunities.
Down payment amounts

Whether you can afford a home is not only measured by the size of how much you put down. It's a myth that your down payment must be 20% to qualify for any home loan.

Lender fees

Regardless of the size of your down payment, your lender fees don't change. "This is because mortgage lenders are prohibited from charging higher fees based on the size of your down payment," states the Mortgage Report.

Down payment assistance (DPA)

Did you know that you may qualify for down payment assistance from your county? DPA programs assist in the form of a loan or grant—secured as a lien against the property—and is often forgiven over time.

Gifts and grants

Down payments don't have to come from your own funds. "Financial gifts from family and friends as well as other grants often can be used for down payments and closing costs," advises Scotsman Guide.
It's your decision; our experienced loan officers are here to help guide you through your affordable lending options and to help you understand which types of mortgages are affordable for you and your current situation. To learn more about how much of a mortgage you can afford, visit our mortgage affordability calculator.
The above information is for educational purposes only. All information, loan programs and interest rates are subject to change without notice. All loans subject to underwriter approval. Terms and conditions apply.
Share this story, choose your platform!