Live where you love
Maybe you've found the perfect location, but the house needs improving. Maybe staying in your current (but outdated) home is what's important. Either way, a renovation loan lets you make upgrades now and pay over time–so you can create a place you're proud to call home.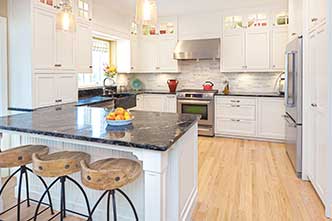 Let us help you create your dream home
Whether you're considering a fixer-upper or dreaming of remodeling your current home, a Renovation mortgage loan helps you get the job done.
Renovation financing options
Conventional
This FNMA HomeStyle Renovation loan allows for most upgrades, including luxury home improvements with low-down payment options for all occupancy types.
FHA 203(k)
This government renovation loan is a good option for larger more complex projects, including health and safety improvements with the flexibility of a low-down payment for primary residences only.
FHA 203(k) Limited
This government renovation loan is a good option to finance minor repairs or cosmetic improvements that can be completed quickly with the flexibility of low-down payment for primary residences only.
How does a renovation loan work?
A renovation loan lets you purchase or refinance a home in almost any condition, make improvements and pay for them over time. Consolidate the cost to buy or refinance with the estimated remodeling costs. We connect you with a renovation specialist and you select your preferred contractor to complete the work.
Advantages:
Create your dream home
One single transaction for purchase or refinance and renovation
Borrow based on future estimated home value
Distribute renovation costs over the life of the loan
What types of remodel projects qualify?
No project is too big or too small. From room additions to new kitchens to painting and landscaping – we've seen it all.
Remodel kitchen and bathrooms
Upgrade electrical, plumbing, heating and air conditioning
Repair cracked slabs or make structural improvements
Install new flooring, windows, doors, cabinets and appliances
Add a granny flat, also known as an Accessory Dwelling Unit (ADU)
Build a swimming pool
Connect with a renovation loan specialist in your area to find the right loan for you:
All loans subject to underwriter approval; terms and conditions may apply. Subject to change without notice. Always consult an accountant or tax advisor for full eligibility requirements on tax deduction. Renovation programs are eligible in the following states: AK, AZ, CA, CO, HI, ID, MO, NM, NV, OR, TX, UT and WY.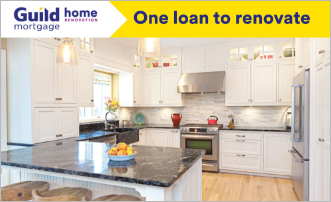 | | |
| --- | --- |
| | Considering selling vs. remodeling? Compare the costs of upgrading to the amount you'll get from selling with our net proceeds calculator. |