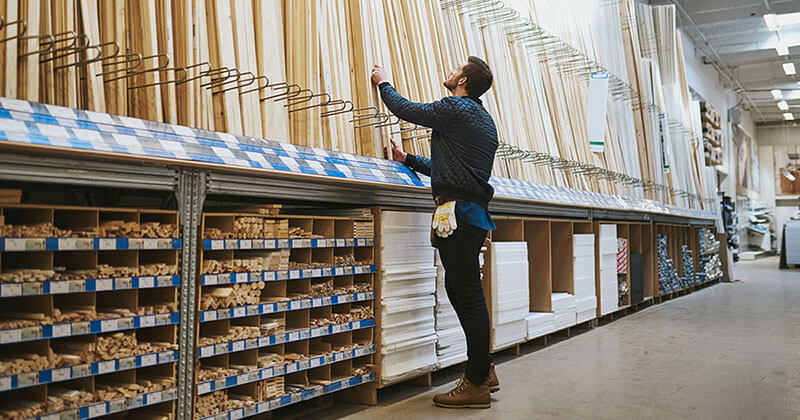 How to finance a fixer-upper
Maybe you've found the perfect location, but the house needs improving. Maybe staying in your current (but outdated) home is what's important. Either way, did you know you have options for financing so you can create a place you're proud to call home? We're here to guide you through the first critical step of any home improvement project–deciding how you're going to pay for it.
Finance options for homeowners
Assuming you don't have the cash on hand to finance your remodel up front, here are two financing options for current homeowners.
Credit card: Realtor.com examines the option of using a credit card for home improvement projects. "If it's a big project, a credit card could be your worst option. Most likely, you'll be paying interest of 15% or more until you can pay off the balance, which will add considerably to the long-term cost of the project." 1 A credit card with zero percent interest is also not the best approach unless you are confident you can pay off the balance in full before interest accrues.2
Mortgage refinance: Even if your current home loan payments are affordable, there are many reasons homeowners choose to refinance their mortgage. One of the main reasons is to make home improvements or repairs. Such improvements may add to the value of your home, and you can wrap the costs into your monthly mortgage payments. If you are considering refinancing a mortgage, it's a good idea first to calculate how much it can change your payment.
Finance options for new homebuyers and homeowners
Renovation loans are a popular choice for current homeowners dreaming of remodeling and new homebuyers looking to purchase a fixer-upper. These loans allow you to buy or refinance a home in almost any condition with just one loan and one monthly mortgage payment. You're able to borrow more money because the loan amount is based on your home's future value after the improvements are finished. Here are three renovation loan financing options to consider.
Conventional renovation: This loan offers the most flexibility in terms of which renovations are possible. With the FNMA HomeStyle Renovation loan, you can make design updates or essential improvements to make a home habitable such as fixing broken windows, shoring up the foundation or replacing a roof.3
FHA 203(k): This government renovation loan is a good option if you're planning on a larger or complex project and you need the flexibility of a low down payment.
FHA 203(k) limited: A good program if you're only making minor repairs or cosmetic improvements like new flooring or appliance upgrades. It's designed to finance projects that can be completed quickly and easily.
Learn more about what types of loans are best for home improvements and their benefits, or find out how to qualify for a renovation loan today.
The above information is for educational purposes only. All information, loan programs and interest rates are subject to change without notice. All loans subject to underwriter approval. Terms and conditions apply.
Share this story, choose your platform!