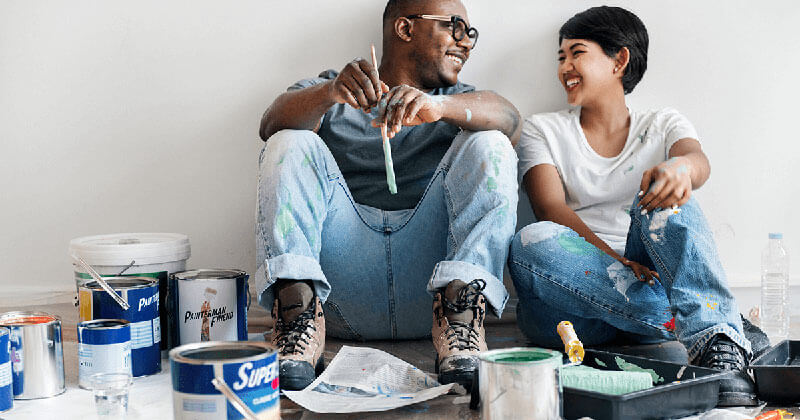 What type of loan is best for home improvements?
Dan Tharp, a Guild Mortgage loan officer in Sacramento, believes first-time homebuyers should get all the help they can. According to a recent interview with the balance, he says new homebuyers are often turned off by fixer-uppers. "Buyers get their foot in the door," Tharp explains, "and say 'We have a lot of work to do here, and we're never going to get it done.'" 1 Similarly, homeowners often have the misconception that they'll never be able to complete home improvements without substantial home equity. For homeowners and buyers, a renovation home loan might be the answer to their home improvement challenges. Renovation mortgage programs let you purchase or refinance all in one loan, so you can start on the path to living where you love right away, instead of somewhere down the road.
Three home improvement loan options
Purchase and refinance renovation loans are available through conventional and government home improvement programs. Compare the requirements of each to determine which option is right for you.
1

.

Conventional renovation:

This loan offers the most flexibility in terms of which renovations are possible. The Conventional home renovation loan allows a homebuyer to make design updates or essential improvements such as updating a bathroom, shoring up the foundation, fixing broken windows or replacing a roof.

Minimum down payment as low as 3 percent
Finance up to six months of mortgage payments
Occupancy types include owner-occupied, second homes and investment properties
Renovation funds are disbursed in draws after a third-party inspector approves each phase of the work

2

.

FHA 203(k):

Offered by the government, this home improvement loan is right for homebuyers planning on a larger or complex project requiring a low down payment.

Minimum down payment as low as 3.5 percent
Finance up to six months of mortgage payments
Owner occupied is the only occupancy type
Funds are disbursed in draws after an HUD-approved consultant approves each phase of the work

3

.

FHA 203(k) Limited:

Designed for smaller, quick projects, cosmetic or minor repairs like new flooring or appliance upgrades. This type of home improvement loan is designed to finance projects that can be completed quickly and easily.

Minimum down payment as low as 3.5 percent
Mortgage payments cannot be included
Owner occupied is the only occupancy type
Up to 50 percent of funds may be disbursed up front for materials if requested. Remainder of funds are disbursed when the work is complete and has been inspected if applicable.
Six benefits of a renovation loan
In addition to the low down payment, there are six main benefits of home renovation loans:
1

.

One loan, one payment:

Buy or refinance a home and make improvements with just one loan and one monthly mortgage payment

2

.

Suit your style:

Make the home your own and upgrade it to fit your personal taste

3

.

Location, location, location:

Buy a property in a neighborhood you love, or stay where you are, and make it your dream home

4

.

Tax time:

Take advantage of more tax-deductible interest since the remodeling costs are all in your first mortgage*

5

.

Higher loan amounts:

Borrow more because the loan amount is based on an appraiser's estimate of what the property will be worth once the improvements are finished

6

.

Spread out the costs:

Pay for the cost of renovations over the life of your loan instead of all at one time
Type of home improvements a loan can cover
Depending on the option you choose, the home you imagine is possible. Renovation loans give borrowers a way to finance smaller projects such as repainting, or bigger projects such as rebuilding an entire house on an existing foundation.
Ready to move on your home renovation plans? Did you know that you can save time, money and hassle by scheduling your projects according to the best time to renovate? Check out our suggestions for a list of the ideal improvements to make by season.
The above information is for educational purposes only. All information, loan programs and interest rates are subject to change without notice. All loans subject to underwriter approval. Terms and conditions apply.
*Please see a tax advisor for more information.
Share this story, choose your platform!