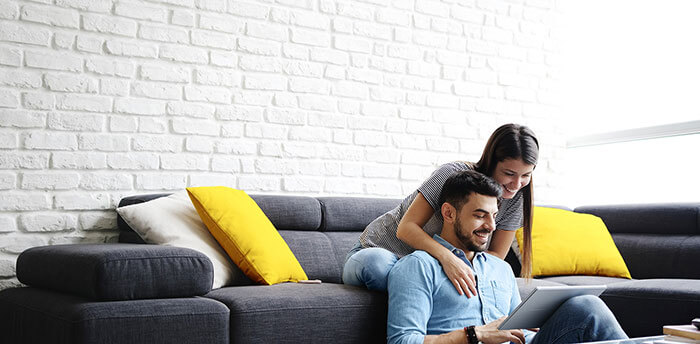 How to get a better mortgage interest rate
If you're wondering how to get the best mortgage rate, you've come to the right place. As you probably already know, a number of factors influence your mortgage interest rate. To gain a better understanding of the parameters you should keep in mind to get the best mortgage rate, we've put together a list.
Interest rates can greatly impact your monthly mortgage payment and the amount of home you can afford. The lower your rate, the lower your payment. While a lot of external factors dictate mortgage interest rates, it's helpful to know that there are a few things you can control to try and get the best mortgage rates.
Keep a healthy credit score to get the best mortgage rate
Although a lower credit score may qualify you for a mortgage, the higher your score, the better your interest rate and loan options will be. A score in the 700s is ideal, but if you want the best mortgage rates, the higher score, the better.
Pay more per month for a shorter term
In general, shorter-term loans such as 15- and 20-year mortgages have lower interest rates than standard 30-year loans. The shorter term means your monthly mortgage payment will be higher, but you will pay less in interest over the term of the mortgage.
Go Conventional
There are many different loan options available to homebuyers. Mortgage interest rates can vary by the different types of loan programs, so it's important to compare options with your lender. Some loan programs offer incentives like deferred down payments and lower minimum credit scores to help buyers step into homeownership.
These programs typically come with higher interest rates than standard loan programs because of the increased risk to the lender. This is an example where the cheapest upfront cost will end up costing you more in the long term. If you can afford a conventional loan, you end up paying less in interest.
Put your max money down to get the best mortgage rate
It's usually best to provide a 20% down payment. While this is not required to buy a home, typically, the more you put down on a home, the lower your mortgage interest rate will be.
Get the point
You can purchase discount points to bring down your interest rate and get the best mortgage rate for your family. If you pay this up-front, you will receive a lower rate and pay less over time. If you have a motivated seller, you may even negotiate with your seller to pay the points.
Lastly, pay attention to the interest rate type. An adjustable rate loan may start off with an introductory low rate and then adjust to the current interest rate at the time. Depending on the market, this may be risky. Fixed rates are generally higher at the start, but at least are predictable. After a certain period of time, you can choose to refinance into a better rate when the market improves.
Keep in mind that everyone's situation is different, so finding the best mortgage rate may mean consulting with a mortgage professional who will assess your credit score, ability to provide a down payment, and the type of loan that is ideal for your buyer's journey.
The above information is for educational purposes only. All information, loan programs and interest rates are subject to change without notice. All loans subject to underwriter approval. Terms and conditions apply.
Share this story, choose your platform!