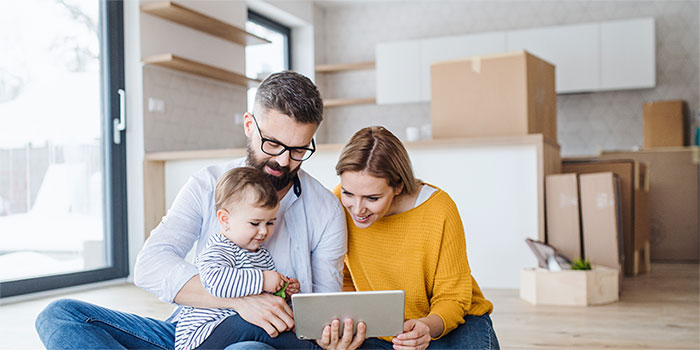 How to get mortgage advice: 9 first-time homebuyer tips
Obtaining the right advice for first–time homebuyers is an integral part of getting into your first home. While buying your first home is an exciting experience, there's a lot you need to consider. From finding an experienced loan officer to preparing your documentation, these first-time homebuyer tips can help you confidently navigate the process.
1. Educate yourself
First-time homebuyers should understand that the homebuying process doesn't have to be daunting if you embrace learning about the journey. Start preparing yourself by reviewing the advice for first-time homebuyers in Guild's first-time homebuyers loan guide.
2. Find an experienced loan officer
You'll need a seasoned realtor and a trusted loan officer to guide you through every step as a first-time homebuyer. Their advice will be important as there are many layers to the process. Look for a mortgage loan officer with experience in the type of loan you are considering. The Consumer Financial Protection Bureau recommends talking to your personal network about how they chose their mortgage lender, then explore your options with multiple lenders. "You get more information about your options and get a sense for which loan officers you might feel most comfortable working with."1
3. Get pre-approved
Loan officers suggest getting pre-approved when asked for their advice on getting a mortgage for first-time homebuyers. Pre-approval for a mortgage loan typically costs you nothing but gives you a goal of which homes are in your affordability range, as well as how much money you should save for a down payment. Having a pre-approval letter helps limit your home search to homes within your means, and can make your offer and negotiations easier. A pre-approval letter also shows a seller that you're serious about buying a home. Without this letter, you could lose out on your dream home, since many sellers require a pre-approval letter with your bid.
4. Determine your down payment
Lower borrowing costs can be one advantage of a larger down payment. But a substantial down payment can also deplete your emergency savings fund or leave you with no cash on hand for maintenance. You may have heard that it's a requirement to save twenty percent before you can buy. This is a myth that first-time home buyers should be aware of; there are a variety of mortgage programs that include low or no down payment options. Choose the best loan and the down payment amount based on your financial situation.
5. Research homebuyer down payment programs
Saving for a down payment is often one of the hardest steps in the homebuying process, but it doesn't have to be. There are down payment assistance (DPA) programs designed for first-time homebuyers with incomes below area median levels. They offer relief from the costs of purchasing a home for buyers who can afford monthly mortgage payments but don't have enough money for a down payment. Eligibility is most commonly based on income. However, that can vary depending on the property location. If there's one piece of advice for first-time homebuyers, do your homework, including researching down payment assistance programs.
6. Compare types of mortgage loans
There is no "best" type of mortgage loan because no two first-time homebuyers are alike. Instead of looking for the best loan, loan officers advise homebuyers to choose the loan most suited to meet their best interests. This guide will explain eight basic types of loans and help you choose the right one for you.
7. Ask for advice about first-time homebuyer programs
When researching lenders, ask for advice on what affordable lending programs they offer for first-time homebuyers who need a boost.
8. Check your credit report
Mistakes on your credit report can cost you when you apply for a loan. Before you get pre-approved, review your report for inaccuracies. To correct them, contact the business that issued the account or the credit reporting company that issued the report.2
9. Prepare your documentation
The exact documents needed to apply for a new home loan will vary by lender and type of loan. However, there are items every mortgage applicant must supply, such as proof of income for the past two years and the sales contract. Check out this list of what to bring for your loan application.
Are you looking for more advice on first-time home buying or wondering how to avoid buying mistakes? Find your local loan officer.
The above information is for educational purposes only. All information, loan programs and interest rates are subject to change without notice. All loans subject to underwriter approval. Terms and conditions apply.
Share this story, choose your platform!