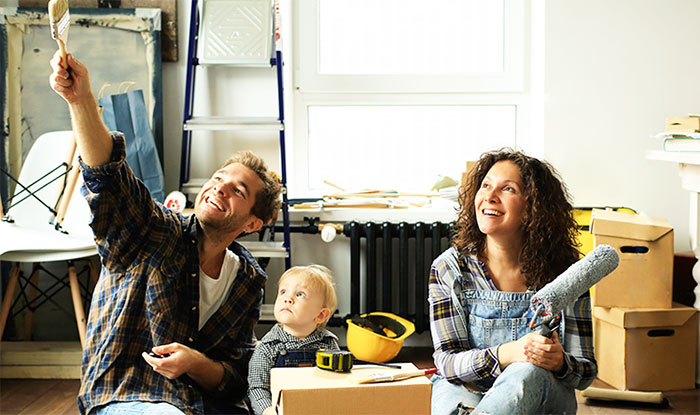 Renting vs. Buying a Home: Should you rent or buy a home?
Are you stuck in the renting vs. buying a home decision-making process? Although your final choice will have financial implications, money isn't the only factor you should take into consideration when determining whether renting or buying a home is right for you. Homeownership also brings less widely known advantages such as creative freedom, predictability and social benefits. Before you make your final decision on whether to rent vs. buy a home, consider these seven top benefits of owning a home vs. renting.
1

.

Freedom to make it your own

From painting the living room your favorite green to putting in a swimming pool, when you purchase a place of your very own, you're free to customize your space to suit your taste. There's also no landlord to tell you "no pets allowed." Even with HOA or community restrictions, owning still provides more opportunities to customize your home over renting. If the freedom to make your own decisions is important to you, then owning is the winner in a renting vs. owning a home scenario.

2

.

A fixed-rate mortgage means payment predictability

One reason Money recommends that it's better to buy over rent is that rents are going up faster than wages in the majority of housing markets.1 With a fixed-rate mortgage, you won't have to worry about your mortgage monthly payment going up with a rent hike. Rates and payments won't change over the life of the loan, even if inflation increases and interest rates rise. As mortgage banking expert J. Keith Baker says, "Having a fixed-rate mortgage with a set payment every month is a hedge against rent increases."2

3

.

Build equity over time

When you rent vs. buying a home, your monthly payment is likely going towards your landlord's mortgage. When you buy, you have the opportunity to build equity. With each mortgage payment, you're one step closer to owning your home. One of the main benefits of owning more equity in your home is that when you sell, your equity is given back to you in cash. The lender takes the remaining amount of the loan, and you take the rest, giving you more money back if you sell your home at a higher price than what you paid.

4

.

Reap possible tax benefits

Despite the recent tax law changes, there are still potential tax benefits to owning a home vs. renting a property from someone else. You can deduct home mortgage interest up to a certain amount. However, you'll need to itemize your deductions to do so.3 Check with a tax professional to determine your specific tax advantages.

5

.

Buying a home may be cheaper than renting

Trulia's market trends report found that nationally, buying a home is 26.3% cheaper than renting for those who stay in their homes for seven years.4 If you live in your home longer, you may also reap the benefit of living mortgage-free someday. That's not something you'll ever achieve if you choose renting vs. buying a home.

6

.

Lock in low interest rates

Long-term mortgage rates today remain near historically low levels. "Rates could jump at any moment no matter how many forces seem to be pushing them down," advises The Mortgage Reports. Adding, "want to capture a historic rate before it's gone? You might want to lock in."5

7

.

Achieve social benefits

Research by the National Association of Realtors shows that homeownership has a positive effect on mental and physical health. Consistent findings show that children of homeowners tend to have boosted educational performances and improved health care outcomes. Also, homeowners tend to be more involved in their communities than renters.6

If you're interested in homeownership, but are still uncertain whether renting vs. buying a home is the right choice for you and your family, we've got you covered. Learn how to prepare and get a better understanding of the home purchase process with the Guild mortgage homebuyers loan guide.
The above information is for educational purposes only. All information, loan programs and interest rates are subject to change without notice. All loans subject to underwriter approval. Terms and conditions apply.
Share this story, choose your platform!